Loading…
The final figures of AGRO' s 52nd edition are confirmed: more than 40 thousand people visited Altice Forum Braga between 28 and 31 March to visit one of the most emblematic fairs in the agricultural sector in Portugal.
The 52nd edition of AGRO- International Fair for Agriculture, Cattle Breeding and Food in Braga ended on Sunday and had 250 exhibitors and 450 agricultural machines in over 25,000 sqm of exhibition. Also noteworthy is the high adherence of visitors to the parallel activities that, between seminars and shows, had close to 3 thousand participants.
With a very heterogeneous audience, AGRO 2019 had the particularity of captivating the attention of many young people and schools. About a thousand students from pre-school, primary and vocational schools visited the fair for free.
The figures show that this is the largest fair in the agricultural sector in the north of the country and in Galicia. With the sponsorship of Caixa Geral de Depósitos, this edition of the fair presented a diversified program of conferences and seminars. There was also space for traditional contests. In a total of 10, with more than 500 animals, 60 trophies and cash prizes were awarded. The novelty was the Bordaleira and Churra Sheep contest.
There was also various moments of animation, with three shows in the Grand Auditorium, with the following poster: Zé Amaro, Tuna of Medicine at the University of Minho Festival and Daniel Pereira Cristo.
Galicia Day was celebrated on Friday, March 29, with the presence of Fundación Semana Verde de Galicia and an official delegation chaired by Marisol Díaz Mouteira, delegate of the Government of Galicia.
The event was also visited by several members of the Government, namely the Secretary of State for Agriculture and Food, Luís Medeiros Vieira, the Secretary of State for Justice, Anabela Pedroso, and the Secretary of State for Forests and Rural Development, Miguel Freitas.
The 52nd AGRO brought together the main players in the sector (farmers, cattle breeders (indigenous breeds, Friesian Holstein breed and others in the agricultural sector), producers, importers, stockists and resellers in the agri-food sector, national and foreign experts in the agri-food and agriculture sectors) and the general public.
This is the only fair the country to join Eurasco - European Federation of Agricultural Exhibitions and Show Organizers. AGRO is also part of the fairs accredited by UFI - The Global Association of the Exhibition Industry.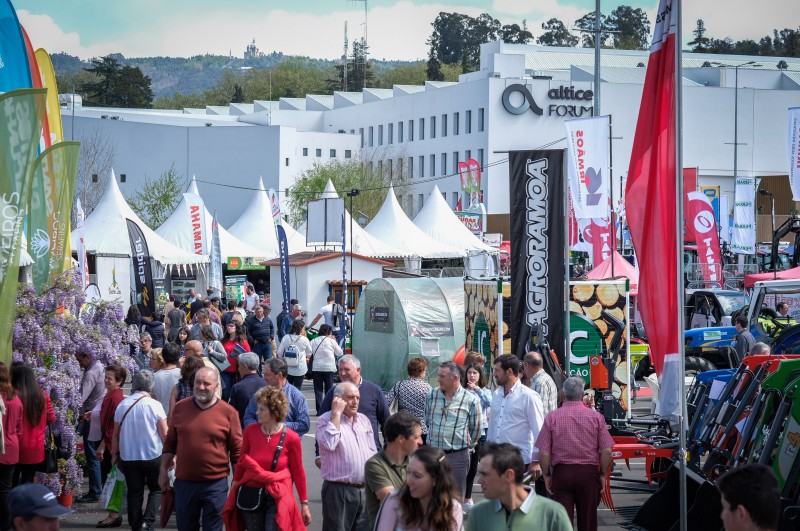 Lean on us your event.
At Altice Forum Braga you can find spaces and a multitasked team that will make your event unique.
ALTICE FORUM BRAGA
A modern interactive and environmentally sustainable forum, designed and made for people. A meeting point for business, culture and with multiple values to make your dream and make all kinds of experiences come true.
NOW AVAILABLE | App Altice Forum Braga