Loading…
The 2019 edition of AGRO - International Fair for Agriculture, Cattle Breeding and Food will take place between 28 and 31 March at Altice Forum Braga.
For what is already considered one of the most important windows of Portuguese agriculture, many new features and parallel activities are planned, as well as a specific animation program that benefits from all the potential of this new infrastructure.
Organized by InvestBraga, this is the largest fair in the agricultural sector in the north of the country and in Galicia. It is also the only fair, at national level, that is part of EURASCO (European Federation of Agricultural Exhibitions and Show Organizers).
The importance that this event assumes in the panorama of the national agricultural sector is reflected in the number of visitors, more than 35,000 in the last edition. They are mainly farmers; producers; importers, stockists and resellers in the agri-food and cattle breeding sectors; national and foreign experts from the agri-food and cattle breeding sectors. But this is an event that is also open to the public.
The 2019 edition took advantage of all the improvements of Altice Forum Braga and is currently in full occupancy of the outdoor space (26 thousand sqm), the pavilion (7800 sqm) and the remaining spaces, such as the congress hall, which will add to the event the component of conferences and other initiatives that will greatly benefit the event.
AGRO Opening Times
28 to 30/03 - 10 am to midnight
03/31 - 10 am to 8 pm
Ticket offices:
The daily ticket has a cost of € 3.5 which can be purchased:
Altice Forum Braga ticket offices
Ticketline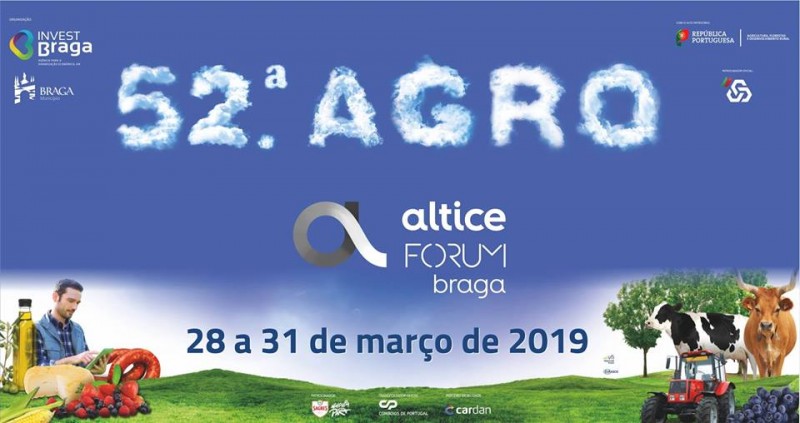 Lean on us your event.
At Altice Forum Braga you can find spaces and a multitasked team that will make your event unique.
ALTICE FORUM BRAGA
A modern interactive and environmentally sustainable forum, designed and made for people. A meeting point for business, culture and with multiple values to make your dream and make all kinds of experiences come true.
NOW AVAILABLE | App Altice Forum Braga