Loading…
Altice Forum Braga was admitted as a member of the prestigious International Association of Congresses and Conventions (ICCA), in the Venue sector. Admission to one of the most prominent organizations in the industry allows us to position ourselves as a specialized and experienced supplier to a worldwide community of more than 1100 companies and associated organizations.
This was a long-awaited purpose, which allows Altice Forum Braga to access a privileged network of contacts, helping to attract international events. For the General Director, Eng. José Coutinho, admission to the ICCA means "another stage in the affirmation of Altice Forum Braga as an international space. Integrating the largest and best network for sharing information and knowledge in ​​congresses and conventions, will create conditions for our space and the city of Braga to start being chosen as the destination for major international events"
Since 1963, the International Congress and Convention Association have brought together suppliers from almost 100 countries in the sector of business tourism. The purpose of this association is to promote a network with the main destinations and leading suppliers in the market for holding international events. The creation of this international hub brings together suppliers of planners, with the offer of solutions suited to the objectives of each event.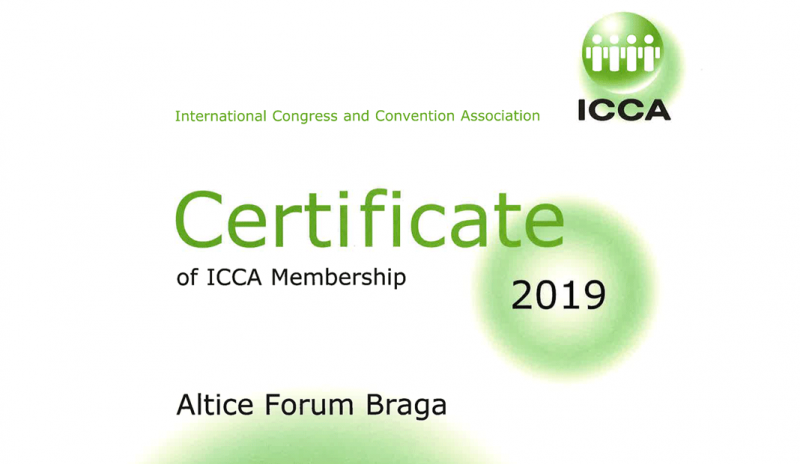 Lean on us your event.
At Altice Forum Braga you can find spaces and a multitasked team that will make your event unique.
ALTICE FORUM BRAGA
A modern interactive and environmentally sustainable forum, designed and made for people. A meeting point for business, culture and with multiple values to make your dream and make all kinds of experiences come true.
NOW AVAILABLE | App Altice Forum Braga