Loading…
Today was presented the Braga Brick FAN that returns to Altice Forum Braga next weekend. Between October 4th, 5th and 6th, you will be able to see about 10 million pieces used in various thematic constructions on display.
About 10 million pieces in various thematic constructions will transform the Altice Forum Braga Pavilion on the weekend of October 4th to 6th. A megacity, railroad trains, skyscrapers, gardens, national monuments, houses, thematic areas, and thousands of mini-figures. Everything is possible at Braga Brick Fun, the largest Iberian exhibition of thematic buildings.
Over the 5,000 sqm of exhibition area, visitors will be able to appreciate the constructions of 18 exhibitors from all over the country, explore their creativity in a play zone (Play Zone), and also visit a sales area for various building packs. There will even be a gallery of builders that will honour the best author constructions, from a MOC (My Own Creation) perspective. Which is the language of the fans of this type of constructions, means the creation of a model thought and executed exclusively by the builder, through the construction parts available.
Carlos Silva, InvestBraga executive administrator, organizer of the Braga Brick FAN, underlines that this event returns to Altice Forum Braga, after a break, in a biennial edition. It also states that in this edition, visitors "will be able to appreciate large dioramas in cities with trains in motion, a monorail, boats, construction areas, large buildings, an amusement park and even a replica of Arraiolos rug and replication of singer Tony Carreira. There will also be several interactive experiences with the public, such as demonstrations of robots, machines and vehicles, play zones with thousands of pieces at the disposal of children who can have fun doing their own constructions and participate in contests and win gifts.
 Jorge Reis, the technical coordinator of the event and exhibitor reaffirms that the event foresees the visit of more than 20 thousand people over the weekend because he believes that "Braga is a city in love with Lego." The professor of Visual Arts and a fan of Lego buildings for over 25 years invites all fans, parents and children to visit Braga Brick FAN because they will be able to appreciate "several replicas of Portuguese trains, in an exhibition dedicated to civil protection, with firefighters, INEM, among others and also a table dedicated to the 6th Cavalry Regiment. " It will be possible to appreciate several replicas built exclusively for this edition of the Braga Brick FAN as some of the most emblematic figures and scenarios from the Star Wars films, known Portuguese monuments, such as the Torre de Belém, the Arco da Porta Nova de Braga, S. Frutuoso convent, you can see the Sagres School Ship, among much other news. "
The Braga Brick FAN opens its doors, from 10 am until 11 pm, next Friday, with the day dedicated to the council's school universe, at a special price of 1 € per student.
Schools can apply via phone, as Carlos Silva explained. At 6 pm on the same day, an inaugural visit will be made with the presence of Dr Ricardo Rio - Mayor of the Municipality and InvestBraga Chairman.
Opening times:
Friday and Saturday: 10 am to 11 pm
Sunday: 10am to 8pm
Prices:
Tickets are free for children up to 3 years old.
From 4 to 10 the value is 1.5 €
From 10 years old it is € 3.99.
Re-entry is not allowed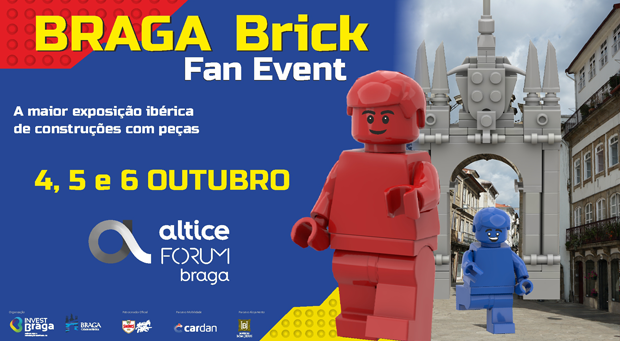 Lean on us your event.
At Altice Forum Braga you can find spaces and a multitasked team that will make your event unique.
ALTICE FORUM BRAGA
A modern interactive and environmentally sustainable forum, designed and made for people. A meeting point for business, culture and with multiple values to make your dream and make all kinds of experiences come true.
NOW AVAILABLE | App Altice Forum Braga