Loading…
Festival to summer end in Braga promises to bring generations together
Boney M, Cock Robin and La Frontera. Three bands that marked generations will "teleport" Braga back to the 80s and 90s. Braga Summer End, a music festival that will mark the end of summer in Braga, promises to bring generations together for a journey to the sound of great musical successes at Altice Forum Braga, on September 28th.
The Festival, which marks the first edition this year, is one of the events commemorating Altice Forum Braga first anniversary. It will have a funk component, going through the disco and pop-rock and with forays into other more current musical lines.
The initiative, which aims to bring several generations together in a unique party, outside the summer festival season, promises to stand out "for the possibility of revisiting the sounds of our youth, dancing to the sound of international bands and DJs, in a fantastic After Party, all in one space, in the Altice Forum Braga pavilion ", says Carlos Silva, InvestBraga's Executive administrator.
The promoter E-pepper, Marco António, claims to be "an event that will take us on a journey through funk, disco and pop-rock, with forays into other musical lines", adding that After Party "will be a moment to remember the DJ´s performances from renowned nightclubs in the north of the country, with confirmation by DJ Motinha and others, to be announced soon ".
Ricardo Rio, InvestBraga chairman and the Braga's Mayor, says that "at a structural level, Altice Forum Braga has the capacity to host diverse and eclectic events, having done everything to captivate promoters to carry out their projects in Braga ".
The Braga Summer End is a summer finishing initiative, which accompanies the celebration of the first anniversary of Altice Forum Braga and which brings together in a single day several moments, such as dinner with live music, the concerts of Boney M, Cock Robin and La Frontera, and continues with a party that promises to last all night and that brings together several DJ's from the northern region of the 80s and 90s. Tickets can be purchased at the Ticketline ticket office.
+ info: bragasummerend.pt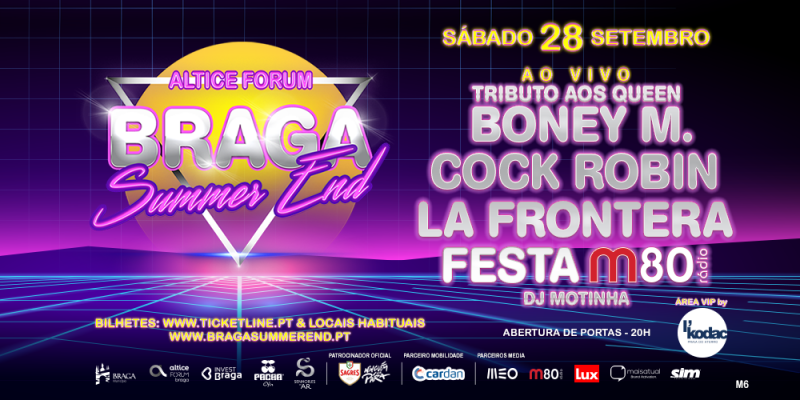 Lean on us your event.
At Altice Forum Braga you can find spaces and a multitasked team that will make your event unique.
ALTICE FORUM BRAGA
A modern interactive and environmentally sustainable forum, designed and made for people. A meeting point for business, culture and with multiple values to make your dream and make all kinds of experiences come true.
NOW AVAILABLE | App Altice Forum Braga