Loading…
Altice Portugal, through the brand MEO and in partnership with Altice Forum Braga, streams Rui Veloso's solidarity concert that takes place in Braga, on the occasion of the official celebrations of Europe Day, using the concept Pay-Per-View, which consists on the live broadcast of the show on MEO's TV, for a fee.
This is the first Pay-Per-View held in Portugal and will allow all MEO users (ADSL and Fiber) to watch live, in the comfort of their home (position 813), the solidarity concert of Rui Veloso that takes place on the day May 9 at 10 pm, and contribute to the social cause of the «Geração Tecla» project of the Portuguese Red Cross of Braga.
Watching Rui Veloso's concert, in a Livestream on MEO's TV, will cost 2 euros (charged on the invoice), and the proceeds from this initiative will revert to the Braga Red Cross.
The "Geração Tecla" project of Braga's Red Cross aims to work on the social inclusion of the most vulnerable children and young people in the Social District of Santa Tecla, in Braga.
This innovative concept of Pay Per View, which by nature has the advantage of allowing capillarity and convenience, has an associated social component since MEO Customers from all over the country will not only be able to attend a concert through their home but also contribute to this noble cause with a simple click on the MEO TV remote.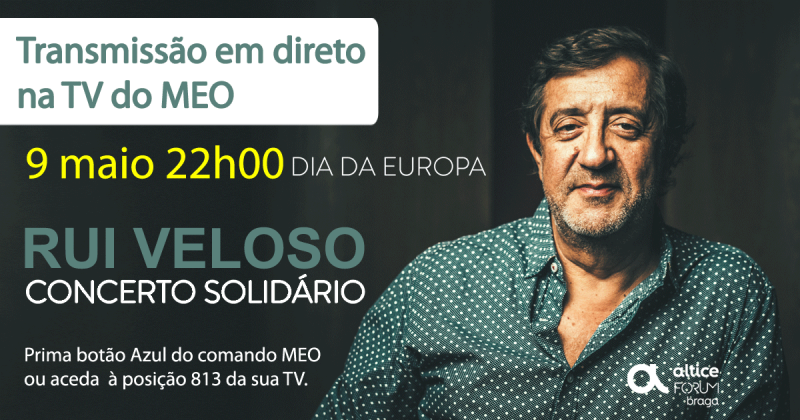 Lean on us your event.
At Altice Forum Braga you can find spaces and a multitasked team that will make your event unique.
ALTICE FORUM BRAGA
A modern interactive and environmentally sustainable forum, designed and made for people. A meeting point for business, culture and with multiple values to make your dream and make all kinds of experiences come true.
NOW AVAILABLE | App Altice Forum Braga