Loading…
InvestBraga organizes, in collaboration with Clube Português de Canicultura and Clube Português de Felinicultura, the 6th edition of EXPO ANIMAL, on the 9th and 10th of November 2019.
In the more than 7,800 sqm of the exhibition area of ​​the Altice Forum Braga Pavilion, we intend to gather a considerable number of dogs, cats and exotic animals on display, but also a diverse range of exhibitors, with products and services for caniculture, feline farming and animals exotic, namely in the areas of food, hygiene, animal welfare, health, specialized press, etc.
The Dog and Cat Exhibitions have been considered by many agents in the sector as one of the best Canine and Feline exhibitions in Portugal. Several exhibitions will be held in partnership with the Portuguese Caniculture and Feline Culture Clubs:
13th Braga National Dog Show (9 November)
10th Braga International Dog Show (November 10)
16th and 17th International Cat Show of Braga.
16th edition program
Day 9 (Saturday)
13th E. C. Nacional de Braga
19th E. C. Bullmastiff monograph (3 pm)
33rd E. C. Specialized of the Great Dane
14th E. C. Specialized of Clube do Cão de Companhia de Portugal (2:30 pm)
7th Specialized E. C. of the Portuguese Dogue Bordeaux Club
16th International Cat Exhibition
Day 10 (Sunday)
10th E. C. Internacional de Braga
17th International Cat Exhibition
Prices:
Child up to 3 years old: Free
Children 4 to 10 years: 1.5 €
Over 11 years: 3.5 €
Re-entry is not allowed
Tickets can be purchased at the Altice Forum Braga ticket offices and at any other Ticketline point (or online: http://bit.ly/bilhetes-expoanimal2019 )
Schedule:
November 9 and 10
10am to 7pm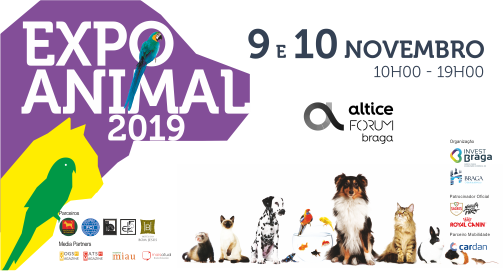 Lean on us your event.
At Altice Forum Braga you can find spaces and a multitasked team that will make your event unique.
ALTICE FORUM BRAGA
A modern interactive and environmentally sustainable forum, designed and made for people. A meeting point for business, culture and with multiple values to make your dream and make all kinds of experiences come true.
NOW AVAILABLE | App Altice Forum Braga