Loading…
The Dance World Cup, the largest dance competition in the world, is one of eight nominees and it is the public who will choose the winners of each category, through a vote that runs until January 7.
The events that took place at Altice Forum Braga won eight nominations for the Iberian Festival Awards 2020, awards that distinguish the best events that took place in Portugal and Spain, during this year. Among the nominations is the Dance World Cup, the largest dance competition in the world, which brought together more than 6000 athletes, coming from 53 countries, at Altice Forum Braga, between June 28 and July 6, receiving 100 thousand visitors.
The Iberian Festival Awards are organized by Aporfest - Portuguese Association of Music Festivals and the annual gala in which the awards are given will take place in Lisbon, at the FIL Grand Auditorium, on March 14, 2020, in parallel and in partnership with BTL - Lisbon Tourism Exchange.
In addition to the Dance World Cup, in the Best Pro Event category, the Nova Arcada Braga Blues was nominated in the Best Small Festival, Best Line-Up and Best Indoor Festival categories, in addition to the Portuguese Blues Reunion nomination in the same event, as Best Live Performance, and Gonçalo Delgado, for Best Festival Photo. In this last category, Paulo Veiga of WideFuture is also nominated for his performance in the Dancefloor - Jump to the Floor event. For Best Live Performance, the concert by Diunna Greenleaf is also nominated.
The choice of winners in each of the categories is made by the public, at https://www.talkfest.eu/nominees20 , until January 7th.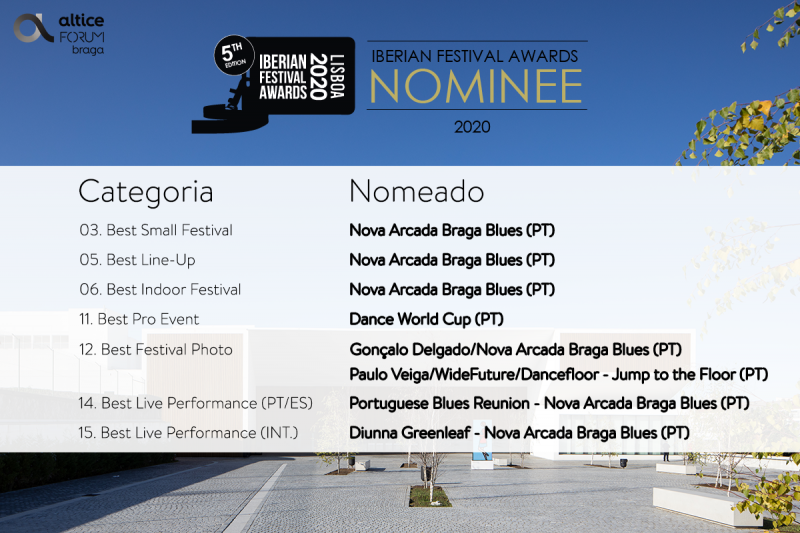 Lean on us your event.
At Altice Forum Braga you can find spaces and a multitasked team that will make your event unique.
ALTICE FORUM BRAGA
A modern interactive and environmentally sustainable forum, designed and made for people. A meeting point for business, culture and with multiple values to make your dream and make all kinds of experiences come true.
NOW AVAILABLE | App Altice Forum Braga