Loading…
Bom Jesus do Monte is considered one of the ex-libris of the city of Braga. From the mythical and so well-known funicular until to the endless staircases, this is a must-stop for those who visit Braga.
It is possible to travel by car to the top of Bom Jesus, however, you can also walk or take the funicular. If you choose to go on foot, you can be dazzled not only by the landscapes but also by the Baroque fountains and statues that accompany the different staircases and chapels. However, you can also choose to take the funicular.
The Bom Jesus do Monte lift is the oldest in the world that uses a water balance system to work, and it was the first funicular built in the Iberian Peninsula. The route of the trail accompanies the staircase in parallel and ends at the statue of São Longuinhos.
In 2019, the Sanctuary was classified as a World Cultural Heritage Site by UNESCO and is undoubtedly one of the places in Braga that welcome most tourists.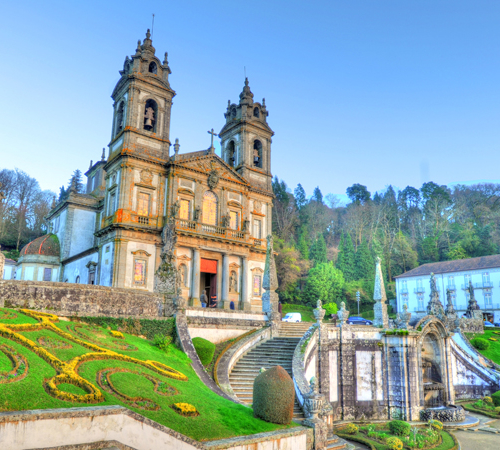 Lean on us your event.
At Altice Forum Braga you can find spaces and a multitasked team that will make your event unique.
ALTICE FORUM BRAGA
A modern interactive and environmentally sustainable forum, designed and made for people. A meeting point for business, culture and with multiple values to make your dream and make all kinds of experiences come true.
NOW AVAILABLE | App Altice Forum Braga